Cam Newton The Greatest American Football Player Pt1.
       Cam Newton is stuck between a rock and a hard brick when it comes to placing him in the Pro Football Hall Of Fame. Is Cam Newton a HOFer?  Or does the Pro Football Hall Of Fame, need to have a special award for Cam Newton?  To me Cam Newton doesnt need to be in the Pro Football Hall Of Fame, because Cam Newton is the  'The Greatest American Football Player' ever, and here is why. 
          The Greatest American Football Player Ever consist of a life time body of football work during ones life span. From the days as a kid playing pop warner to playing in the NFL. And I didnt say greatest athletes ever, like a Deion Sanders, Bo Jackson, and Allen Iverson. Iverson was one heck of a football player in Newport News. But the greatest American Football player. Cam Newton in high school became a 5 star player for Westlake High School. They went to the semi finals in his senior season. Probrably  even as a kid he was one of the tallest kids on the team.  Cam Newton was a tall and girthy football player. Just look how huge this dude was at the University Of Florida, he towered over Tim Teabow.  Just think if Cam would have stayed at Florida, I think they beat Bama as Cam and Auburn did, I think he sweeps and wins all the awards. Dont talk about if he would have played for 2 years at Florida, and could have won back to back heisman trophies. But Cam took his talents to Blinn Junior College after an incident at Florida. Blinn went undefeated that year, and won the JUCO National Championship. The big QB from Atlanta or the Florida Gators.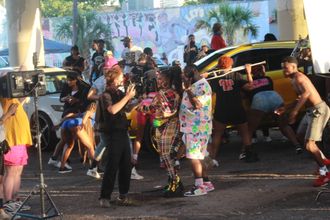 The #1 Song Of The Summer Getcha Sum 
     For over two decades New Orleans Bounce artist have been fighting to break the ranks of the music industry to have one of them with a song thats bounce on the radio, on youtube, spodify, and other platforms that does not include Meg The Stallion, City Girls or a Cardi B, that take pieces of bounce and put in their music. 
       Which brings us to HASIZZLE and his soon to be crowned #1 Song Of The Summer, Getcha Sum. Its has already taken New Orleans by storm. And now the rest of America and the world, will eventually be saying, 'Ohh Na Na Na', along with twerking and shaking.  Im sorry New York, but the DJ will play this song, and its going to have the women shaking that thang!!! Its going to get so popular that no city will be able to stop it. Getcha Sum is going to take over your city. Tupac Shakur once said, 'What ever the women like, the fellas will like', and gosh darnit, this song should hold true to those words.
       I suggest one thing if you are reading this blog, everybody Getcha Sum.
by: Alden Bynum http://www.twitter.com/Onclaiborne
NOTRE DAME FOOTBALL IS LIKE AN INDEPENDENT RECORD COMPANY
                      We've all watched college football for years. And wondered why Notre Dame Football has never joined a conference. Other sports at Notre Dame like the Mens and Women Basketball teams have joined the ACC conference. But its the cherished football program that has stayed independent for decades not committing themselves to a conference.  Why? They love their independence of whom they play and how much notoriety and money they bring to the table.
                           Recently BET Network and Master P has produced a docuseries about No Limit Records and the story of how Master P started his record label. And as I was looking at Notre Dame semi joining the ACC Conference this year for a 10 game schedule with the conference, it dawned on me, Notre Dame is like an independent music label, i.e. Master P (No Limit Records) and Birdman (Cash Money Records).  Im from New Orleans so i may be a little biased. But those are two labels that were independent who grew their brands, to eventually be courted by other music labels and distributers of the industry to sign. Both labels wanted to get the best deals and own their recorded masters. And thats what Notre Dame has done over the decades.
                        You would think that Notre Dame would have joined the Big 10 at least 20 years ago, with them playing Michigan and Michigan State. Geographically they are in arms reach of a lot of Big 10 schools, Indiana, Northwestern, and Ohio State. Travel would not have been that expensive for the athletic department. But they didn't sign. Instead they continued to play USC, Stanford on the west coast. Army and navy on the east coast. In the mid 1990's Notre Dame signed a deal with NBC Sports to broadcast a lot of their televised games. It was maybe the first of exclusive college football television broadcasting for a school or conference. To this day Notre Dame and NBC Sports are still partnered together as they have renewed their deal a couple of times. Without signing with a conference Notre Dame doesn't have to share broadcasting money with 7-10 schools. Its only that one team they face each week that get the pay out. And it maybe far less money to dish out that way than paying your conference brethren.  Even if the Irish are having a bad season they still win in the end with monetary gain. Notre Dame also works out its own deal for sponsorships. Team apparel, for all of their sports. They don't have to listen to nobody on how they should do things, other than Notre Dame itself. And thats why they still remain independent. Because its working and has been working. 
                        Notre Dame football if they want could issue funds to other sports departments. But it seems like the other sports do pretty well with or without any funds from the football program. Notre Dame in all sports sticks to their budget. From Tennis, Soccer, and Hockey, if Notre Dame reaches any title contention its like saying 'Notre Dame in the house'. That brings notoriety to the event and Notre Dame. 
                       Did you know The Big East Conference wanted Notre Dame to join their conference some years ago, and they gracefully bowed out, Thank You, but no Thank You. And if they would have signed and wanted to leave the conference it would have cost Notre Dame $5 Million. Did you know the ACC also came knocking on The Irish door, but to leave the ACC would have hit The Fighting Irish up for $50 Million!! Yep you read that right. And thats the reason Notre Dame will be independent, because they are not paying anybody $50 Million!! Notre Dame, like Master P, like Birdman, want control of their brands to do whats in the best interest of the brand to be relevant and make money. So the Notre Dame Fighting Irish Music Group will still have the best independent deal in college football. 
When The St. Augustine Marching 100 Blew Out The Southern University Human Juke Box And Stole The Show (Fall 1990) Pt. 2
Alden Bynum III
                            I know, I know, its hard to believe. But believe it!!!  The make up of the band was incredible. St. Aug had 14 Tubas, 16 Trombones, 8 Baritones, 8, Mellophones and an astounding 52 TRUMPETS. Did you get the Trumpet part, I said 52 TRUMPETS. No one was a slacker. The WOODWIND section were great readers of music and loud. The CLARINETS, SAXOPHONES,  and FLUTES blended in wonderfully. And to mention the high stepping COLOR GUARD of the Purple Knights. And indeed St. Aug had a great drum section to cadence the band. The CYMBALS, TENOR DRUM, SNARE DRUM AND THE BASS DRUM sections were made up of some great leaders and trendsetters. The Drum Section was so disciplined. 
                         It was in the St. Aug gym during summer time that help build the stamina of the St. Aug lower brass. That year St. Aug wanted to put a distance between them and Kennedy. Because the year before was the myth of the Kennedy 21 Mellophones. But when the game was played that saturday, kennedy only had 14 mellophones which outnumbered the St. Aug mellos. Both bands had their oohs and ahhhhs, which made it a stale mate between the 2 bands that year. But St. Aug came into the fall of 1990 to put a gap between who is The Best Band In New Orleans hands down. No ifs, ands or butts. And St. Aug did just that, gave Kennedy the business in the stands and on the field.  St. Aug had become a machine!!!! 
                        But it wasn't over because St. Aug still had their Catholic League schedule to play for football season. Though it wasn't a band that could compete with St. Aug, they still had to perform a great filed show and play great in the stands. When at times the refs had to stop the band from playing while the opposing team would be trying to call the cadence to snap the ball. And at the same time St. Aug were competing with themselves, when they played the likes of Brother Martin, Shaw, Jesuit, and Holy Cross. 
                 Deep down this band wanted to be like the 1987-88 St. Aug band that was legendary. Their were students who were seniors and juniors now that had played in that band. And former middle school and junior high school students who watched that band and wanted to be in the Marching 100, just from seeing the 87-88 band. You put that all together, and what do you get, a machine. St. Aug had become a MACHINE!!!!!
THIS IS A TRUE STORY!!!!
When The St. Augustine Marching 100 Blew Out The Southern University Human Juke Box And Stole The Show (Fall 1990) Pt 1.
Alden Bynum III
                                  Throughout the years of the New Orleans band scene there are lots of stories about band battling. New Orleans high school bands would battle during football season in the stands and on the field. But of all the legendary stories, there is one that is forgoten in the folklore of band stories. And it was the night St. Aug blew out Southern University in the stand and won the hearts of the entire crowd with their field show. 
                                  If you ever wondered why Southern University plays, the New Orleans second line classic "Do What You Wanna", by The Rebirth Brass Band, its because of St. Aug and what happen on that night. If you want to compare St. Aug to a college football team at the time or as of today. They would have been 'The U', Nebraska, and yes Alabama. St. Aug was extinguishing the completion in the year of 1990-91, which is the most underrated band in the St. Aug history of their bands. 
                             It was the year of the band receiving the song by Earth, Wind and Fire, "In The Stone", which is presented every 2 years, which is the hallmark song for St.Aug. In The Stone was the song of St. Aug, once you heard the drums hit the intro, you knew what was next. The entire band coming in with fullness. St. Aug had an arsenal of songs. They played the reggae song "Human Race", by Steel Pulse, which surprised everyone. Because St. Aug was known for playing their Tribute To Bob Marley song, that was the first reggae song played by a New Orleans high school band.  
                             During the football season St. Aug, destroyed Kennedy and 35 with their field show and also in the stands, which are their New Orleans rivals in bands and athletics. That was easy money to St. Aug. The band was so experienced that they did a number of switches for the field shows, like switching up songs and filed show moves. 
THIS IS A TRUE STORY
Shows
Our Events feature allows you to post your upcoming concerts and events on your website in a calendar or list view. The Pro plan even lets you sell tickets directly through your website!